Wow, time flies! It's already September and time for another Beta Tester of The Month. This month we're happy to feature Jerrod Kerwin-Sweeney! He's got an eye for user interface design and enjoys innovative and creative solutions. Keep reading to find out his tips for beginner beta testers.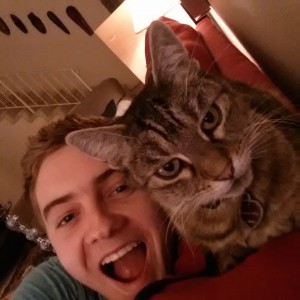 Name: Jerrod Kerwin-Sweeneyjerrod
Age: 20
Nationality: American
Interests: Game Development and Design
Devices you own: Samsung S3, iPhone 4
How many apps have you beta tested?
I have tested over 60 applications, including the apps I tested on the Beta Family site.
What's your best quality as a tester?
I personally think my best quality as a tester is my eye for UI design. I've worked with UI and UX designers for a while know and I like to share what I've seen in my own work.
What's your favorite app?
My favorite app at the moment is Reddit is Fun. I use the app daily and I think the mobile platform is very convenient. My other apps are mainly for work, media, and scheduling.
Do you have a favorite app developer or company?
I don't play mobile games as frequently as I used to. It would be unfair for me to list a specific developer as my favorite without playing the most recent releases, and my devices are somewhat dated so it's difficult for me to judge the quality of a game on what could now be considered a low-end device.
How come you started with beta testing?
I started with QA and beta testing because it complemented my chosen field.
What kind of apps do you most like to test?
I enjoy testing a variety of apps. I enjoy seeing the innovation and creative UI solutions that smaller devs can present. I'd say I enjoy testing apps that aren't music or messaging related the most.
As you've tested lots of apps you must have encountered many bugs and faults. Is there one bug or fault you see often that you feel developers should know about and fix before starting the beta testing?
The one issue I notice the most is bad text formatting. It doesn't matter how robust or attractive your UI is. Simple formatting issues like messy text wrapping or alignment will throw off the appearance and polish of your entire application. It's an easy fix but it is too commonly seen.
Why are you part of Beta Family's community?
I am a part of the Beta Family community simply because of the convenience on the testers' side of things. I like being able to help smaller teams that are trying to get new apps off of the ground. It's been interesting to see how the service has developed over time, and my overall experience has been very positive over the years.
How long have you been a member at Beta Family?
I've been a member at Beta Family for 3 years.
Do you have any tips for newly started beta testers?
Be critical, test beyond what the test report is asking you to test, and don't be afraid to be honest.
What's your philosophy towards beta testing?
I think beta testing is useful for smaller companies, but I also think it is something that should be geared towards testing usability rather than bug tracking. I don't mind doing bug reports, but a straight forward test report allows for more feedback about the application itself to make its way back to the developer.
What three things do you need to be successful in beta testing?
To be successful in beta testing you need excellent written communication, an honest opinion, and an eye for UI design.
What are the best and worst things about beta testing?
The worst thing about beta testing is the test reports. Sometimes the language barrier or poorly structured test reports make giving feedback very difficult. I'd say the best thing about beta testing is the feedback you receive from the developers and test owners for delivering a high quality test report.
Would you rather test apps for bigger companies or new start ups?
I'd rather test apps for bigger companies. I have no problem testing apps for smaller startups but it's interesting to see both sides of the market, and in the past I've done more testing for smaller companies.
What makes an app exciting to test?
Seeing creative solutions to common problems is what makes an app exciting to test. I enjoying seeing unique designs and concepts in their earliest stages, and it's even more rewarding seeing those apps make it onto Google Play nd the App Store.
How many apps are on your phone right now?
I have almost 40 apps on my personal phone, not counting stock apps. Most of them are for daily use and not game related apps.
Are you a gamer? If so, what kind of games do you like?
I'm an avid game and I enjoy FPS games for the most part. I tend to play more PC games in my own time.
Thanks to Jerrod for being our September Beta Tester of The Month! We love having so many fantastic testers here at Beta Family and hope you enjoy reading about some of them each month. You can check out other featured beta testers in our older blog posts.
PUBLISHED BY
Malin Klockare Gullesjö
Malin Klockare Gullesjö is working with Beta Family's online profile. She has previously worked as a community manager on social media in the tourism industry.